About...
Sara

Sara was born in Xingping, Yangshuo Guanxi Province in 1974.
Since 1995 she lives in Jinghong. She started guiding trekking groups to all parts of the Xishuangbanna region in 1998.

With her excellent knowledge of the forests and the minority areas Sara can guide your party on a individual customized trek, taking in account your experience and the time you can spare for this trek. Saras Aini and Dai language skills and her fluent english and of course her native chinese language are the basis for intercultural understanding when you want to get more insights into the way of living of minority tribes of southern china, yunnan province.

If you only have a day for a few photos or a week to do some real exploring, Sara will create a very memorable excursion for you. Feel free to talk to sara about any specific request (villages, tribes, waterfalls, length of daily walks, ect).

And when you come back, exhausted but happy and full with new impressions, you're always welcome to chill out at Saras Forest Cafe, drinking fresh, cold Bananamilk and have a filling, good tasting self made meal.

Contact me: please go to my whole homepage, email adress, guestbook and location at http://www.forest-cafe.org and write me an email to sara@forest-cafe.org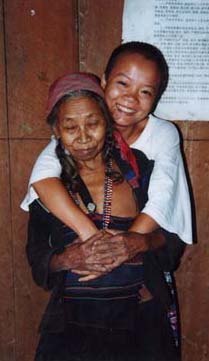 About...
some of my tours (examples) ...

fascinating Mekong experice
for a memorable experience try the trip down the mekong river in a rubber dinghy boat, with a riverside picnic and visit to a water dai vilage. you would leave jinghong at 10am and the journery would take 4-6 hours depending on the amount of stops people would like e.g. swimming and village visit. you would arrive at Galanba druing the afternoon and have the option of staying one or two nights or return by bus, which takes one hour. this trip is highly recommended. if you like excitement and adventure of being on the river combine with a wonderful sense of tranquility.

option 1: 4 people plus guide (english speaking)500 yuan including picnic

option 2: 3-4 hours easy walk visit aini villages 80yuan pp extra. picnic can be negotiated with sara at forest cafe. pinic including home made bread fillings to order and fruits.





easy tropical rainforest day trek

time: 2.5 hours bumpy raod on mini -bus to dai vilalge north of jinghong. 3hours walk plus break in the forest terrain; comfortable clear foot path ,excellent forest and beautiful stream and waterfall (during the raining season ) price 150 yuan





mengkuan one day trek

time leave 8;30am. return 3-4 pm
3 hours public bus, 5 hours walk including one hour steep up hill on a narrow path terrain; beautiful view of valley with rice field and pineapple plantation. ethnic groups: ake ,aini ,dai
number of villlages: 6




easy 2 days trek




time 1 hours bus and taxi to dai villlage, 5 hours walking along the bank of mekong + a lot of up - down second day; 4-5 hours easy walking. terrain beautiful view of mekong, rubber and tea plantations, mountain rice fields. ethnic groups ;dai ,aini ,ake
overnight village; dai village over 600 years old, good atmosphere!




moderate level 4days (noverber -may )
time; 8;30 am take minibus to galanba dinghy boat. 2-3 hours to a dai village. 4 hours nice view path. walk to aini village.
2nd-3rd day 5-6 hours up- down hill wooded walk.
4th day: easy 4 hours foot path walk and 1 hours back jinghong by minibus.




terrain up-down on the middle two days ,well know mekong river adventure and forest overnight village. ethnic groups: dai ,aini ,ake
200 yuan/pp extra fee for the doinghy boat




ethnic village forest 2days trek (noverber -may )
time 5 hours walk through ake, aini village with tea, pinepple, rubber plantations too .
2nd day take half hour minibus before start 5-6 hours forest walk (including couple of hours foot path walk too). bring sandals and good hiking shoes! overnight village: dai




moderate level trek 3 days (noverber -may )
time 1 hour bus and taxi to dai village, 2.5 hours walk along the bank of mekong on footpath.
second day: 5 hours walking through forest along small stream up- down hill.
third day: 2 hours walking mainly down hill, swiming break at luoshuo river side, 1 hour minibus back to main road, 1 hour public bus back to jinghong .
terrain: up - down on the last 2 days, beautiful forest and river view overnight village dai, aini
ethnic groups: dai ,aini ,ake


thursdays 2 days trek:
time to leave on wednesdays: 1pm, 3.5 hours bus ride to xidin.
thursday: visit colourful market (very few tourists) then 5-6 hours walk plus break.
terrrain steep down hill 1 hour, great view of biggest valley in xishuangbanna, tea plantation and tea processing factory.
ethnic groups: aini, dai, bulang
overnight gueshtouse and dai village




mini bus north. easy 2 days tour.
time: leaving 9am, 4-6 hours boat trip down to galanba, 1 hours drive to botanical garden.
2nd day: 4-5 hours drive in mini bus, visiting ethnic village. ethnic groups: dai, jinuo, flower belt dai, chinese-dai.
overnight: guesthouse in botanical garden, very peaceful .

PLEASE NOTE:

these hikings require that you carry the following provisions in your backpack:

a light raincoat or an umbrella;
an extra change of clothes, long shirt & pants (wear in the evening to prevent malaria)
good hiking shoes and extra socks;
sunglass, sunscreen and a hat;
mosquito repellent;
any personal medication that you need;
flashite or head lamp;
sandals for stream walk;
sleeping sheet if you have.

DO'S AND DONT'S:

please ask the people or the guide before you take photos! please pack out all the trash (espically plastic, cigarettss etc.) don't give candy or gifts to childen!
don't smoke drugs in the family house where we stay in.

thank you and enjoy you trek !!!

Sara

Contact me: please go to my whole homepage, email adress, guestbook and location at http://www.forest-cafe.org and write me an email to sara@forest-cafe.org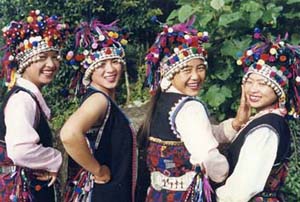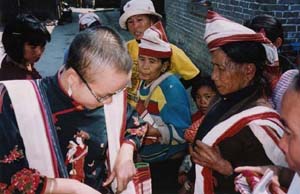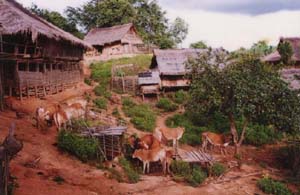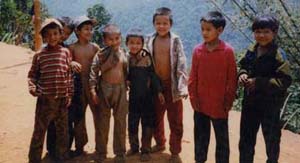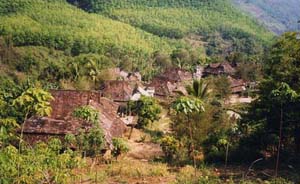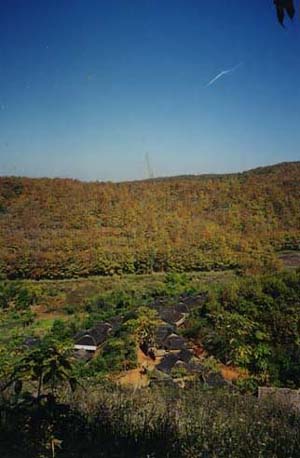 About...

the Forest Cafe, a place for you to relax...

biggest guide- novel collection in town. trade & sell. phrasebooks availabe (laos, vietname, mandarin), lastest new edition of lonely planet, guide books available (laos, south-east asia, south-west china). postcards, express bus ticket booking service, free city map!!!

And of course not to forget our music!

Eat & Drink:
fresh seasonal juice, best one is forest spicaly juice mixed pinapple. orange & passion fruit together, almost everyone love it!!! pineapple & lemon, apple cinamon yoghurt shake.
homemade bread & apple cinemon jam!!! pineapple with chicken. delious mushroom with cabbiage and eggplant .